I have been teaching for over 25 years, and I currently teach pupils from beginners to Grade 8 and above, ranging in age from 5 to 70+! Some years I hold a summer concert in which most of my pupils choose to take part.
My fees are £17.50/half-hour, £26/45 mins and £35/hour. Consultation lessons are free of charge – please contact me if you would like to book one.
My approach
Like many teachers over the years I have formulated my own way of violin teaching, but have been influenced by the ideas of Paul Rolland, Mark Knight, Simon Fischer and Keiko Wataya. I like the fact that all pupils are unique, and I enjoy tailoring the approach to suit the needs of the individual. I have written my own series of violin tutor books and theory workbooks – Hey Presto! – which I use with beginner violin pupils.
Some of my own memories of music lessons (thankfully not all!) were of teachers that just pointed out everything that was wrong rather than helping me to put things right, which was incredibly frustrating as well as frightening. This has influenced my own teaching – though I have minimum practice requirements I always try to encourage and motivate rather than frighten, keep a sense of humour and show a pupil how to put something right rather than criticise them. In my experience, most pupils are aware enough of what they are not doing well.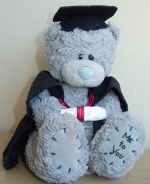 So I go to some trouble to make the lessons enjoyable and relaxed, especially for younger children – my teddy bear, "Brain," sits in on the lessons with me, and likes to check things and pass comment!
Exams
As an examiner for ABRSM I am very familiar with the exam process, and I prepare pupils for both instrumental and theory exams if requested – both ABRSM and Trinity-Guildhall. I have a 100% pass rate with many pupils obtaining merits or distinctions. I am also able to accompany my pupils in their exams. However, grade exams are not suitable for everyone. There are also other options for pupils needing to be spurred on, e.g. performance opportunities, joining a group, making a recording etc. I am equally happy to teach a pupil just for enjoyment.
Theory
I believe music theory is very important for musicians. For example, having an understanding of the way scales are constructed helps pupils to both learn them and remember them; knowing keys and key signatures makes it easier to find the right notes when sight-reading. So most lessons include a little time spent on music theory. Learning it a bit at a time also makes it much easier when the time comes to take Grade 5 theory (an entry requirement for practical exams of Grade 6 & above).
Practice
In order to learn any instrument, practice is absolutely essential – far more important than talent or intelligence: research at a Berlin music academy found that the best violin students had on average practised about 10,000 hours in their lifetime, while the less advanced students had practised about 7,500 hours! However I do understand that many pupils & parents have time constraints, so my guidelines are a compromise:
| | | |
| --- | --- | --- |
| Minimum requirement | age 5-6: 10 mins a day | age 7 upwards: 20 mins a day |
| | Grade 4 upwards: 30-45 mins a day | Grade 6 upwards: 45-60 mins a day |
| Excellent progress | 60-120 mins a day | |
Practice is also far more effective spread out over several days (ideally every day) rather than done in one go.
CRB check
I hold a current CRB certificate. Parents are also always very welcome to talk with me and sit in on the lessons if they have any concerns.
I am a member of the Incorporated Society of Musicians, and the European String Teachers Association.